A review



Main features Review

Review of RegRun Security Suite Gold version 3.30
System in use is a Dell Dimension 4100, PIII 700MHZ, with 256 Megs Ram
OS is Windows 2K SP3, Opera 6.05, Outpost Firewall, and DrWeb AV

Install went smooth as did the application of the registration key.
Suggest a prompt at the end of the install to place a desktop icon of the Regrun Control Center.

Following is a list of the features and my comments about each.

My first overall impression is that this program would be best suited for intermediate
to advanced users. Although the interface is pretty much user friendly, users need to
have some idea of how the registry works and have some experience in editing the registry.

Start Control
Provides an unusually friendly interface to users, who can easily and quickly provide
detailed information about, suspend, resume, alter, or delete any of the programs within
the Windows startup.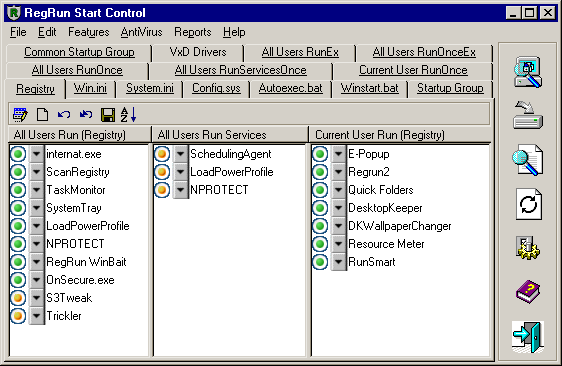 Comment: Perhaps my favorite feature. Can be used for security and convenience in
troubeshooting. Gives absolute control over what starts up when you load Windows.
I particularly like the ability to pause services and then activate them again with a
click of the mouse.


Secure Start
Analyzes the Windows registry, initialization files, and .vxds and warns the user if
any changes have occurred. Secure Start is activated BEFORE Windows startup - in both
W9x and W2K/WXP. It allows you to reverse any modifications, additions, or deletions.
Comment: Excellent tool to guard against malware activation upon booting up.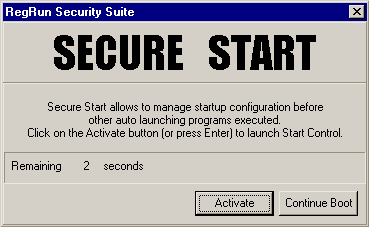 Clean Boot
Using "Clean Boot," the user will boot into Windows without unnecessary or problematic
programs and processes. This is a quick and handy alternative to Windows "Safe Mode".
Comment: Did not find the need to use this.


Watch Dog
Provides silent monitoring of the startup programs during your Windows working session.
Watch Dog will pop up and advise you of any changes in these areas, and allow you to reverse
any modifications, additions, or deletions.
Comment: Excellent protection against file swapping or deletions by malware. Keeps a close
watch on key registry entries.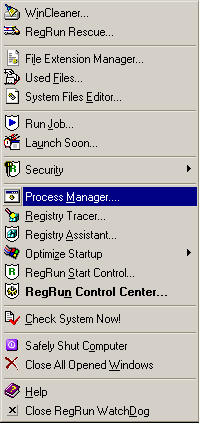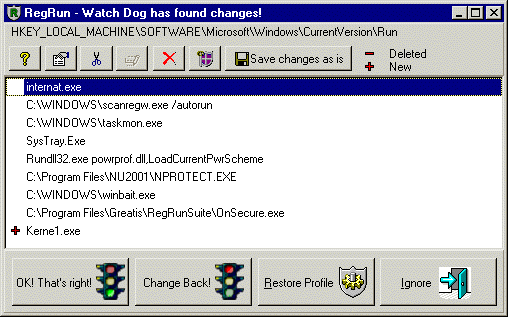 System Files Protection
System Files Protection is an extremely useful function, serving to protect your computer
from viruses, trojans and malfunctioning programs. It checks system files for adulteration,
and offers the option of restoring them if necessary. You have the option of adding additional
files for its protection.
Comment: A good place to put your AV and AT exe files for protection from being tampered with.
I find if you include the vxds, the popups become excessive and difficult to keep up with.
This feature is very desirable in this day and age when many viruses are terminating AVs and
ATs in order to avoid detection.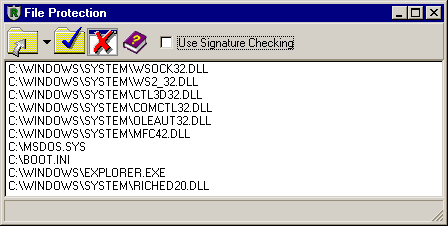 Infection Detector
This is not signature scanning, but rather "infection scanning". During a session, it opens
and monitors a number of "bait" program and macro files which are vulnerable to infection by
any active virus. If any of these files change, it will advise you.
Comment: None


Application Database
Includes descriptions of always-used programs as well as malware. Watch Dog monitors
applications as they start, and compares them with this database, looking for dangerous
programs. Users may contact Greatis Software for information about unknown programs; Users
can add their own programs.
Comment: None.


Antivirus Coordinator
Coordinator detects the well-known antivirus programs (it can be customized to incorporate
lesser-known AV programs), and uses this information to quickly check startup files and
folders, if necessary.
Comment: Some may find this desirable. I did not use it.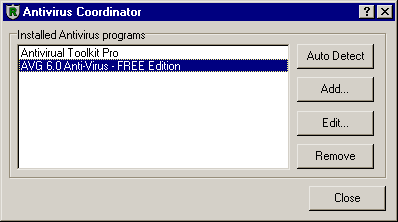 Process Manager
Allows you to analyze and control all of the processes and modules that are running on your
computer.
Comment: A tree view of running processes. I'm not sure there is a need for this enough to
justify the space it takes. Perhaps some may find a use for it.


System Files Editor
Looks like a Microsoft's SysEdit but it is handier and allows you to quickly and easily open
your files subset.
Comment: Very convenient.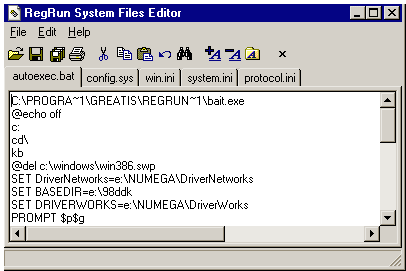 Launch Soon
Allows a delayed launch of your programs. This is particularly useful on smaller systems that
launch many programs simultaneously at boot up.
Comment: Could be very handy in situations where you need a little control in your startup
timing.


Used Files
Shows all the files that are open on your computer.
Comment: Somewhat redundant, I think.


File Extension Manager
Helps to manage Windows file extensions.
Comment: Did no need to use.


Registry Assistant
Includes registry search and replace, tips and tricks collection, registry shortcuts, useful
links and utilities. This includes a full, 32-bit application that allows fast, multi-threaded
searches of the Registry; a very useful tool for those accustomed to working with the MS programs.
Comment: Useful for working in the registry. Inexperienced people should use with caution.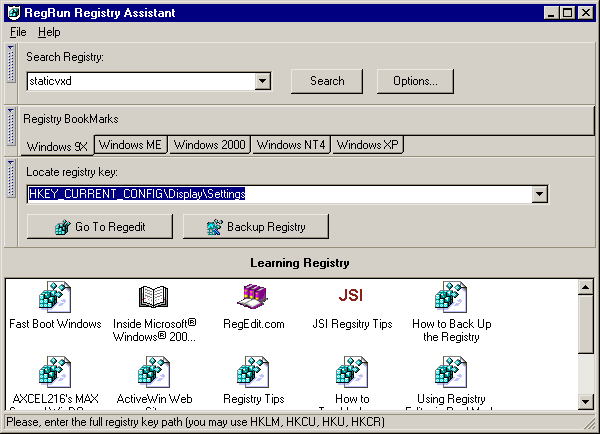 Registry Tracer
Registry Tracer monitors selected registry keys, and advises of changes. It allows you to
reverse any modifications, additions, or deletions.
Comment: Did not use although I can see some may find it useful.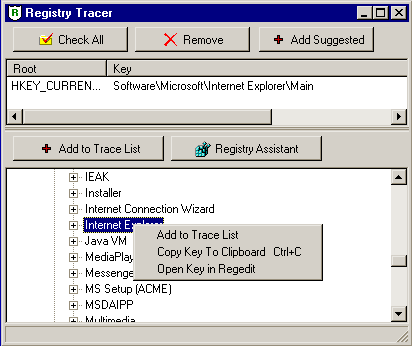 Run Job
Advanced batch manager. Allows you to launch several programs simultaneously, delayed, or by "chain" - a series of jobs; each waiting for completion of a
previous program.
Comment: Did not use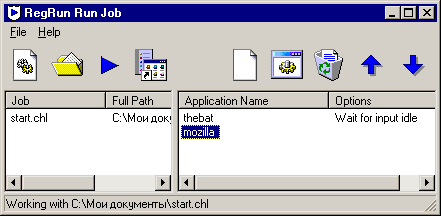 Rescue
Backups registry and system files and allows the user to quickly restore them.
Comment: Looks to be a great backup tool. I did not use it since I already use a registry
backup and recovery tool. If you do not already have a backup program for the registry,
I highly suggest using this one.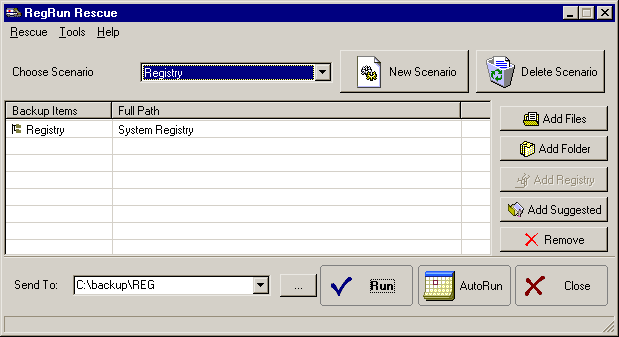 Port Monitor
Monitors ports and applications that allow access to the Internet. This feature can advise you
whenever a new program connects or listens to a port, allowing you to terminate it if necessary.
It also looks for the connection of common trojans.
Comment: Does not appear to be available yet.


Script Checker
Advanced Script Checker Analyze script files (VBS, JS) or HTML files before execution. It will
warn you of suspicious or dangerous scripts, and offer the option of preventing execution.
Sophistocated, and unlike most "script blocker" tools, Advanced Script Checker works at
the .dll level - assuring that it works even if the script is initiated by a false extension,
or has been hidden within an email or web page.
Comment: Does not appear to be fully implemented yet. I have scripting disabled on my machine.


Trojan Analyser
Monitors applications for suspicious be-havior, including registry and file activity, and
reports if any questionable action is detected.
Comment: Not available for Win2K and XP.


Macro Checker
Analyzes Microsoft Office documents before opening and warns if a dangerous macro is detected.
Comment: I do not use MS Office.


WinCleaner
Clears Internet cache, temporary files and other files assigned by user.
Comment: Excellent utility for privacy issues, especially for someone that does not already
use a program such as Window Washer or IE Clean.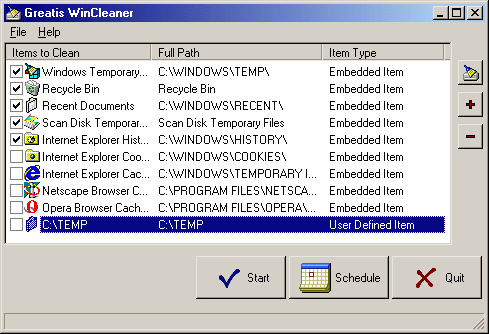 Bootlog Analyser
Bootlog Analyser allows to troubleshoot Windows startup and shutdown using generated by Windows
startup log file (bootlog.txt).
Comment: Excellent! Finally a boot log analyser that works with Win2K. Very useful in
troubleshooting startup problems and finding any delays in your boot sequence.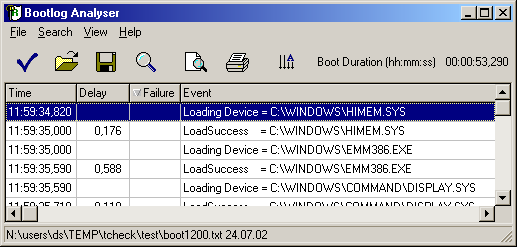 Startup Analyser
Startup Analyser allows to unhide Windows startup process. Must have tool for troubleshoot
strange problems on startup.
Comment: Windows 9x and ME only. Too bad. I would like to have that available.


This program was very stable on the test machine. I noticed no problems either with the
program itself or with the implementations of its features. The program works as advertised.


I think maybe a single interface window for access to the settings and options would cut down
on a little confusion. For instance the RegRun Control Center offers access to the settings of
the various features, yet when you open the Start Control interface and click on options at the
top, you have the features listed again. Initially this confused me as I could not be sure
there was not something there, that was not offered in the Control Center.
In future versions, perhaps the interface could be slimmed down a little and redundancy
minimised. There are so many features, it is somewhat intimidating at first. With a little
effort at familiarizing myself with the structure however, I soon became comfortable with
choosing what options I wanted and was able to add considerable security to my system.


I consider this to be a "must have" program for anyone that wants to be serious about having
a secure machine, with the control being in the hands of the operator.
The program is fairly priced at $49.95 USD and there are two, less costly versions available
that would certainly be better than no using RegRun at all.


On a scale of 1 to 10, with 10 being the highest, I give it a 10+.


Test and review by: Ghery.